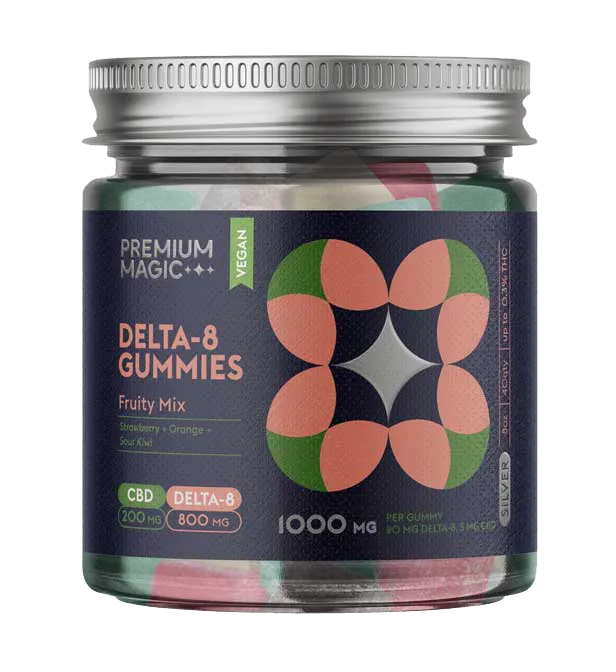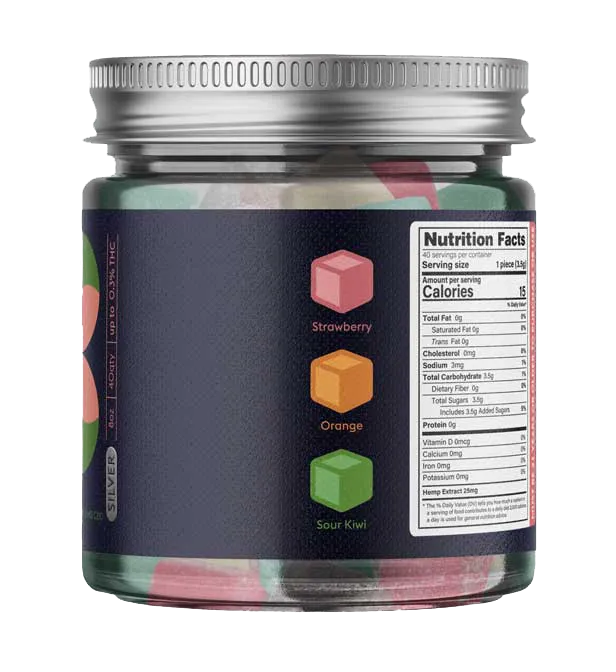 Delta-8 Gummies – Silver Fruity Mix – 1000mg
Introducing our Delta-8 Gummies - Silver Fruity Mix, 1000mg per pack, available in mouthwatering orange, kiwi and strawberry flavors. Each gummy contains 25mg of Delta-8 THC, making it easy to control your intake and elevate your wellness. Made with high-quality ingredients and lab tested for purity and potency. Perfect for those looking for convenient and discreet way to experience the potential benefits of Delta-8 THC.
May provide pain relief

Can help reduce anxiety

Can improve focus and concentration

Can increase appetite.
Secure payments powered by: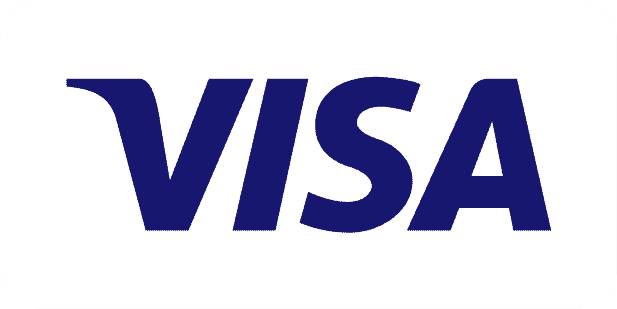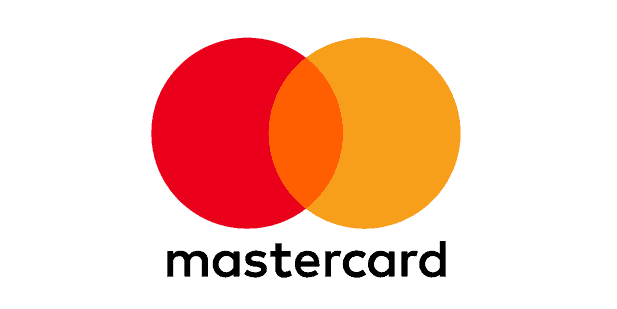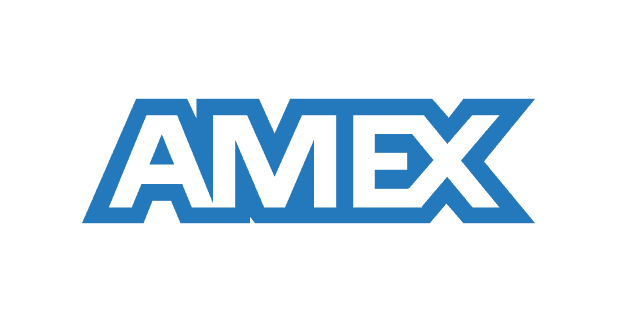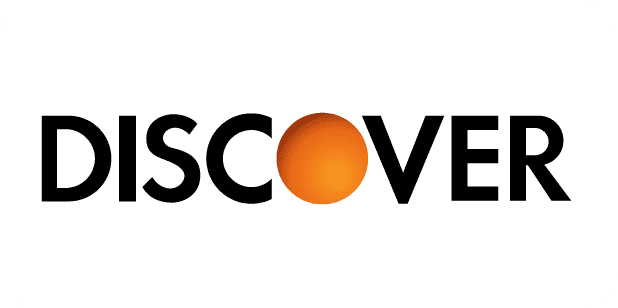 FREE 2-DAY EXPRESS SHIPPING ON ALL ORDERS
| | |
| --- | --- |
| Weight | 0.5 lbs |
| Dimensions | 3 × 3 × 4 in |
| Delta-8 THC Per Gummy | 20 mg |
| Total Delta-8 THC | 800 mg |
| Strength Per Gummy | 25 mg |
| Total Strength | 1000 mg |
| Total Units | 40 pcs |
| Weight | 140 g |
| Fruits Flavour | Orange, Sour Kiwi, Strawberry |
Orange
Sour Kiwi
Strawberry
Organic Tapioca Syrup, Cane Sugar, Water, Citric Acid, Natural Flavors, Hemp Extract, Pectin (Derived From Fruits), Natural Color, and Coconut Oil.
Suggested use of the Delta-8 Gummies – Silver Fruity Mix, 1000mg per pack is to start with 1 gummy and wait at least 2 hours before increasing the dose to evaluate how the body responds to it. It's recommended to consume the gummies after a meal for better absorption. It's suggested to keep track of the effects and to adjust the dosage accordingly to find the right amount for you. Consult with a healthcare professional before using. It's also important to check the legal status of Delta-8 THC in your state or country before purchasing or consuming it.
Premium Magic Delta 8 CBD Gummies Fruity Mix
Delta-8 Gummies 1000mg 40 pcs x 25mg
Stop wishing for a better way to get the high-quality CBD you want without flavors that make you gag. You'll find the perfect combination of CBD and delicious tastes with Premium Magic Delta 8 CBD Gummies Fruity Mix.
Our top-quality CBD is paired with a derivative of Delta-9 THC, Delta-8, in this Gold-level strength blend to help you enhance calmness and support mental health.
Each bottle contains 200mg of pure CBD and 800mg of Delta 8 CBD Gummies in tasty fruity flavors that include fruit strawberry, orange, and sour kiwi. Simply take one gummy per day for a calming experience delivered to you in precisely-measured doses.
Unlike tinctures, you won't have to fumble with droppers and guess whether or not you're taking too much or too little. Premium Magic makes it easy to support your health and wellness through quality and delicious CBD gummies you'll love!
Why Should You Buy Our Delta 8 Gummies?
You'll love that our Delta 8 Gummies are made with all-natural ingredients and taste great, too! Our products are made from USA farmers' growth plants. They are 100% organic, bigger in size, and made from PREMIUM QUALITY hemp-derived Delta 8 THC. We offer the best quality Delta 8 Gummies available in the market.

Delta 8 gummies metabolize in a different way when consumed by the body. The best thing about these edibles is that they can last a long time. But that long duration of a high does come at the cost of a slow start up. You can wait between 30 and 90 minutes at a time for the edibles you eat to finally kick in.
Depending on the individual's metabolism and their weight, the edibles can kick in at a different time. Under most circumstances these delta 8 gummies can kick in within an hour. So you should wait at least 60 minutes for your edibles to kick in before you have any more.
The Texas Department of State Health Services released official documentation saying that Delta 8 in any concentration is now a controlled substance similar to that of Delta 9 THC. Even if the Delta 8 products you are buying are derived from hemp, the truth of the matter is that it is illegal throughout the state until a judge rules that it should be temporarily legal. There are many lawsuits that are challenging the decision to criminalize Delta 8 THC, but as of now, it is temporarily legal. So even though you will not be arrested or charged for having marijuana on your person, this is only temporary. The law could go into effect very soon, which could make all Delta 8 products, regardless of their THC concentration, illegal.
No, Delta 8 gummies don't cause cancer. But, it is said to be very beneficial for treating nausea and enhancing appetite. Some data suggests delta-8-THC may be a useful choice to avoid vomiting during cancer chemotherapy treatments, even if it comes from small research of only ten kids.However, when you take too much Delta 8 THC, you can experience confusion, anxiety, and paranoia.
Not all Delta 8 THC gummies are legal. Only Delta 8 gummies that are manufactured from hemp are federally legal throughout the US. While Delta 9 is not allowed due its very strong psychedelic properties, Delta 8 has more manageable psychedelic properties and is derived from CBD. Manufacturers who derive their Delta 8 THC from CBD do so through a process called isomerization. During this process they rearrange the different CBD molecules, which essentially allows them to create Delta 8 THC. As long as Delta 8 gummies do not exceed a specific amount of THC and are derived from hemp, they are legal.
When you are taking delta 8 gummies, you can stay high for as long as 4 to 8 hours. Depending on your weight, metabolism, age, and gender, your body will process these delta 8 gummies differently. But when compared to other ways that you can consume delta 8, this lasts the longest. Vape and tinctures tend to wear off the fastest. So if you are looking to take edibles, you should plan your day in advance so that you do not have to do any important tasks while you are high.
Delta 8 gummies can be completely safe to consume and are very effective in helping the body relax and feel at ease. But it is important for you to only take a specific amount of delta 8 gummies that you mind can handle. Taking too much can lead to side effects such as:
Dizziness
Reduced motor functions
Much slower reaction speeds
Hallucinations
Nausea
Paranoia
These side effects are only common if you have delta 8 gummies on an empty stomach or when you take significantly more than what your body can handle.
3Chi gummies do advertise that the edibles can kick in within 30 to 40 minutes. But you should understand that there are many other factors that are at play. The gummies can take longer to kick in depending on your weight, gender, age, and metabolism. You should wait at least 60 minutes when you are starting out with these edibles to find out if they are potent enough for you. And you will usually not have to wait longer than an hour for some of the effects of the edibles to really start to kick in.
Delta 8 will often come through a process known as isomerization. This process includes the rearranging of molecules in a specific substance, which allows manufacturers to create a new substance entirely. But even if Delta 8 is made from CBD it has more in common with Delta 9 than CBD. Since Delta 8 has a slightly higher concentration of THC, it has intoxicating effects and can be a potent psychedelic. So even though it offers many of the same benefits as CBD, it does so with a relaxed high.
Read what our customers think about Premium Magic CBD Gummies
4.9 out of 5.0
Based on 188 reviews
Subscribe To Our Newsletter
By subscribing, you will be able to stay up-to-date with the latest developments and news in the world of Delta-8 CBD gummies.
"Stress-Free Serenity: The Silver Paradise Mix has quickly become my go-to for unwinding after a long day. The flavor profile is incredible, and the 1000mg of CBD allows me to fully relax and enjoy the moment. Thank you, Premium Magic CBD, for creating such an outstanding product!"
I purchased the Delta 8 Fruity Mix Premium Magic Gummies for my partner who suffers from anxiety and insomnia. After trying them, he reported that the gummies helped him relax and fall asleep more easily. The fruity mix flavor is delicious and the effects are mild but effective. I would definitely recommend these gummies to anyone looking for a tasty and effective way to experience Delta 8.
I have been using these CBD gummies for my headaches and I have noticed a significant decrease in the frequency and intensity of my headaches.
"The sleek, modern design of Delta-8 Disposable caught my eye. The exceptional vaping experience hooked me for good."
"A friend recommended this Delta-8 oil to me, and I couldn't be happier. It has made a significant difference in my life."
Read All Reviews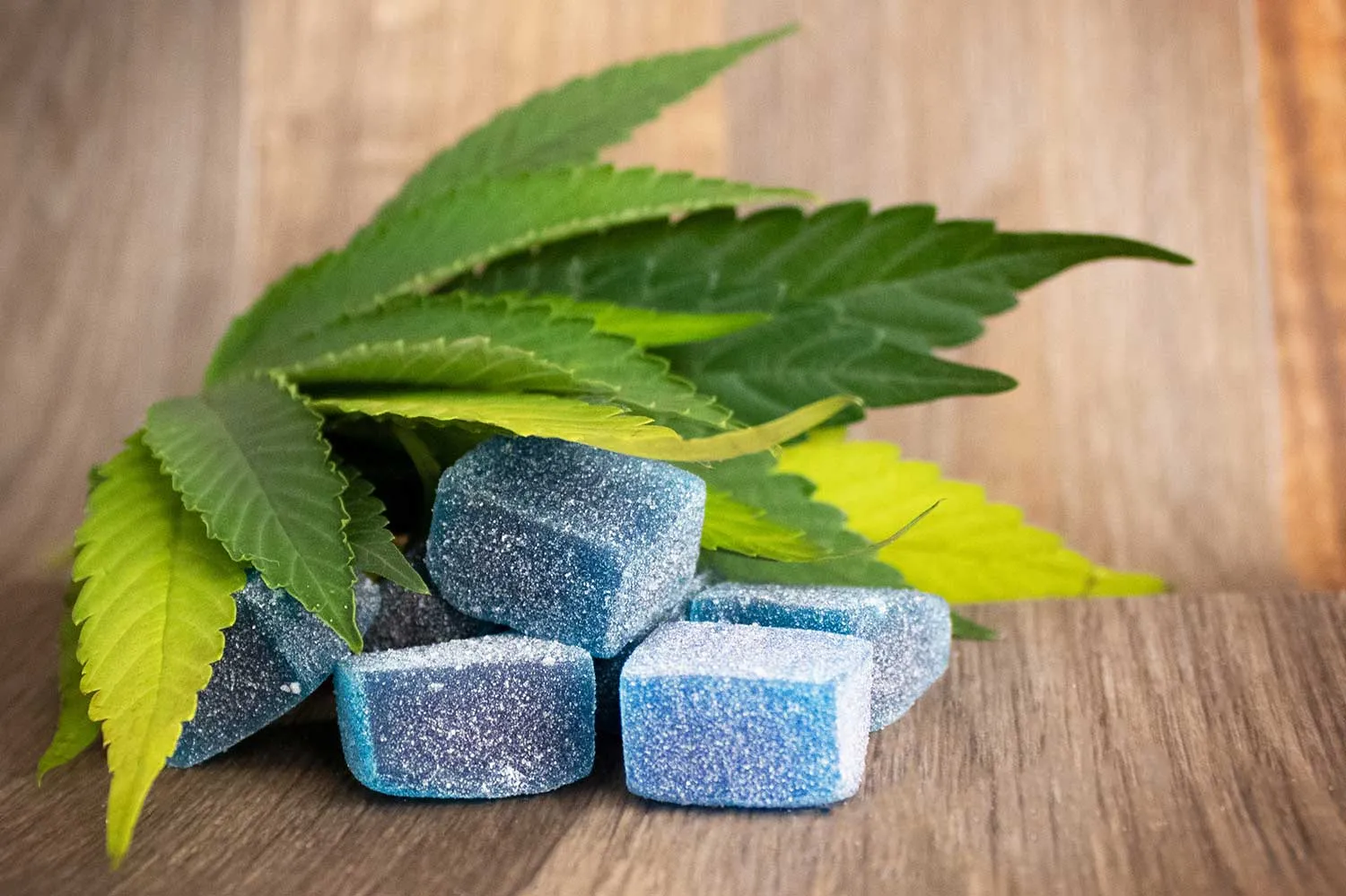 Our Blog
Explore the world of Delta-8 THC gummies through our informative and educational blog posts. Get accurate and up-to-date information on benefits, usage, legal status, and more.
Welcome to a riveting journey into the world of Delta 8 THC, a cannabinoid that's been making waves in the cannabis industry and beyond.

Discover the differences between CBD gummies and CBD oil. Learn about taste, benefits, and legality in this comprehensive guide.

Discover the differences between CBD gummies and CBD oil. Learn which is better for you and how to use them effectively.