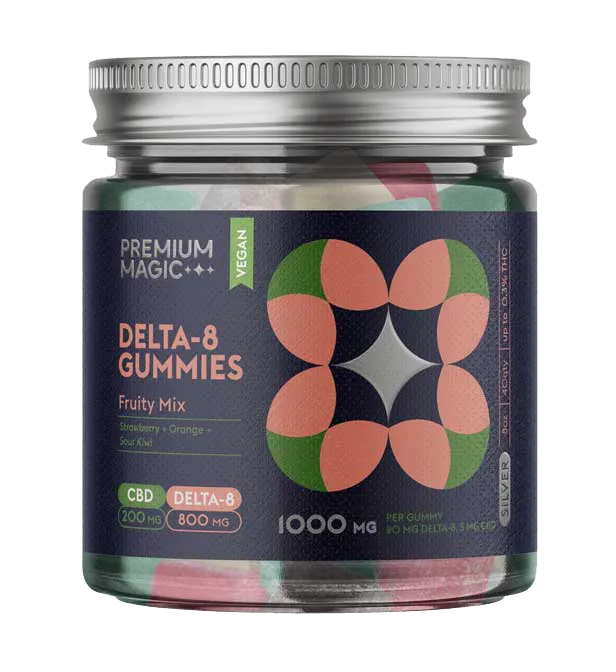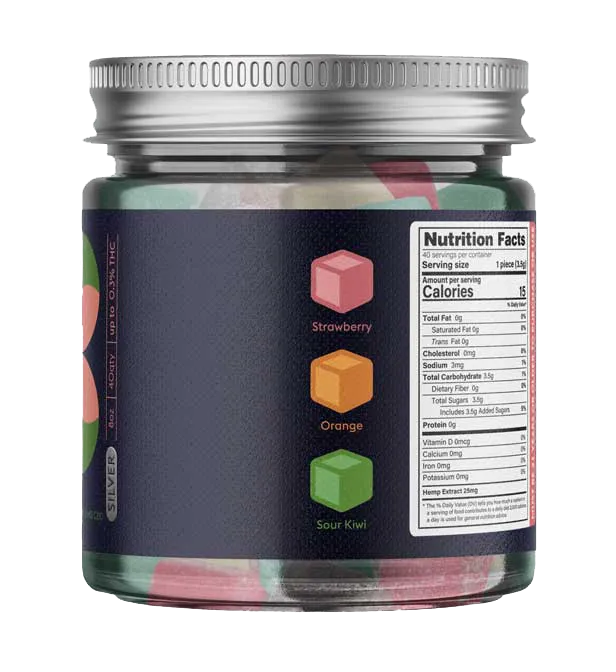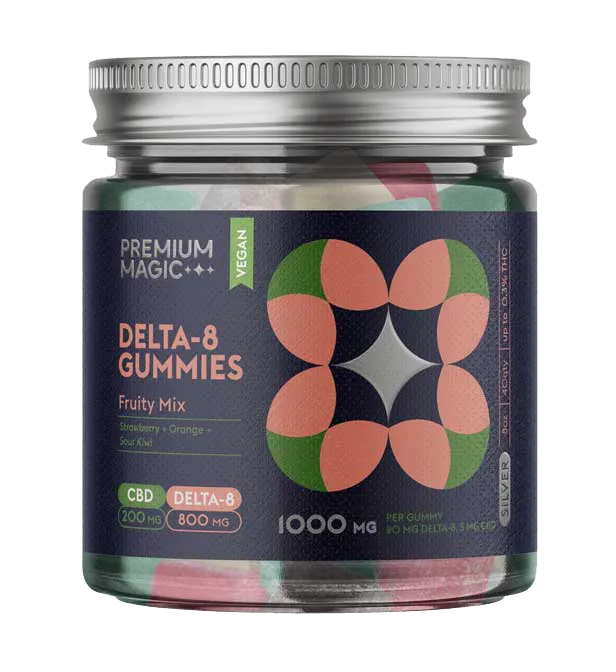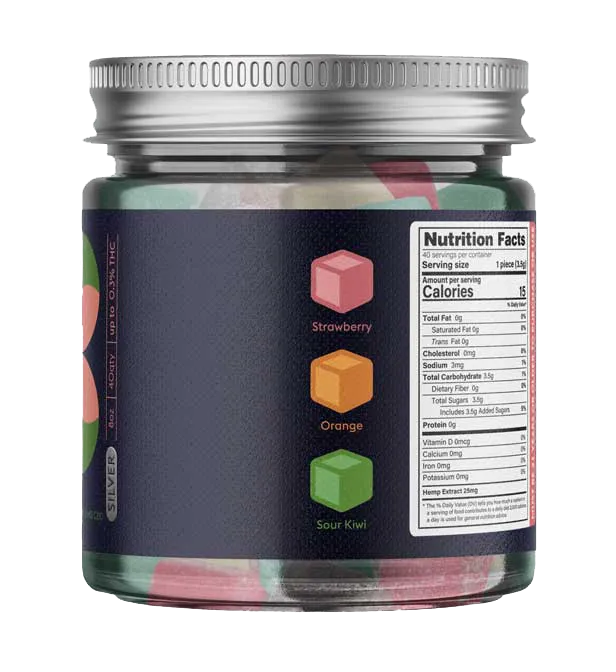 Delta-8 Gummies – Silver Fruity Mix – 1000mg
Introducing our Delta-8 Gummies - Silver Fruity Mix, 1000mg per pack, available in mouthwatering orange, kiwi and strawberry flavors. Each gummy contains 25mg of Delta-8 THC, making it easy to control your intake and elevate your wellness. Made with high-quality ingredients and lab tested for purity and potency. Perfect for those looking for convenient and discreet way to experience the potential benefits of Delta-8 THC.
May provide pain relief

Can help reduce anxiety

Can improve focus and concentration

Can increase appetite.
Secure payments powered by: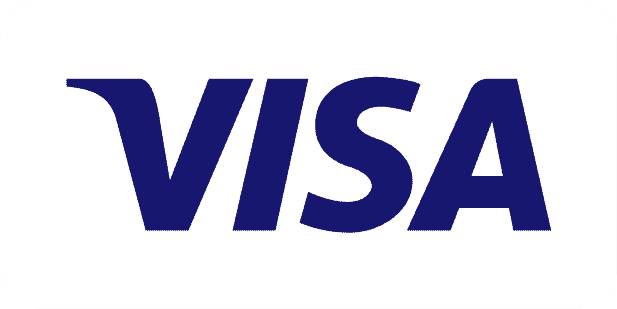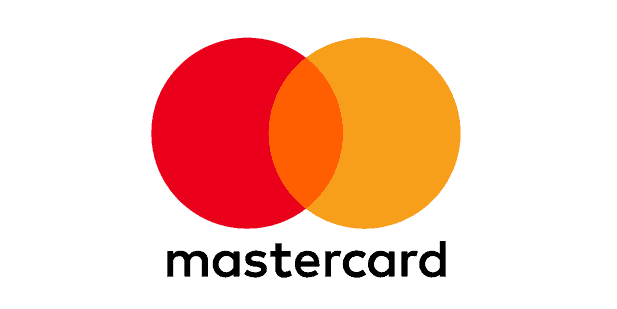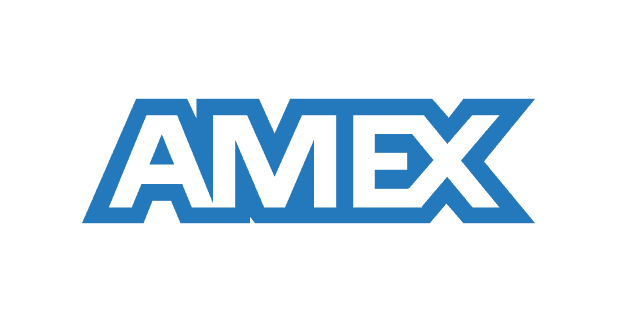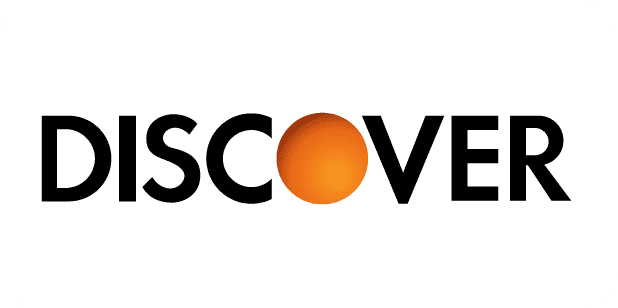 FREE 2-DAY EXPRESS SHIPPING ON ALL ORDERS
Orange
Sour Kiwi
Strawberry
Organic Tapioca Syrup, Cane Sugar, Water, Citric Acid, Natural Flavors, Hemp Extract, Pectin (Derived From Fruits), Natural Color, and Coconut Oil.
Suggested use of the Delta-8 Gummies – Silver Fruity Mix, 1000mg per pack is to start with 1 gummy and wait at least 2 hours before increasing the dose to evaluate how the body responds to it. It's recommended to consume the gummies after a meal for better absorption. It's suggested to keep track of the effects and to adjust the dosage accordingly to find the right amount for you. Consult with a healthcare professional before using. It's also important to check the legal status of Delta-8 THC in your state or country before purchasing or consuming it.
Premium Magic Delta 8 CBD Gummies Fruity Mix
Delta-8 Gummies 1000mg 40 pcs x 25mg
Stop wishing for a better way to get the high-quality CBD you want without flavors that make you gag. You'll find the perfect combination of CBD and delicious tastes with Premium Magic Delta 8 CBD Gummies Fruity Mix.
Our top-quality CBD is paired with a derivative of Delta-9 THC, Delta-8, in this Gold-level strength blend to help you enhance calmness and support mental health.
Each bottle contains 200mg of pure CBD and 800mg of Delta 8 CBD Gummies in tasty fruity flavors that include fruit strawberry, orange, and sour kiwi. Simply take one gummy per day for a calming experience delivered to you in precisely-measured doses.
Unlike tinctures, you won't have to fumble with droppers and guess whether or not you're taking too much or too little. Premium Magic makes it easy to support your health and wellness through quality and delicious CBD gummies you'll love!
Why Should You Buy Our Delta 8 Gummies?
You'll love that our Delta 8 Gummies are made with all-natural ingredients and taste great, too! Our products are made from USA farmers' growth plants. They are 100% organic, bigger in size, and made from PREMIUM QUALITY hemp-derived Delta 8 THC. We offer the best quality Delta 8 Gummies available in the market.

Delta 8 gummies can come in different types of strains, such as indica, sativa, and hybrid. Each of these has its own unique benefits and traits, which is why you need to be careful of the ones that you choose. Some can be indica, and others can be sativa, which is why one can make you feel relaxed and drowsy with the other one making you feel active and awake. So not all delta8 gummies are indica.
Delta 8 will often come through a process known as isomerization. This process includes the rearranging of molecules in a specific substance, which allows manufacturers to create a new substance entirely. But even if Delta 8 is made from CBD it has more in common with Delta 9 than CBD. Since Delta 8 has a slightly higher concentration of THC, it has intoxicating effects and can be a potent psychedelic. So even though it offers many of the same benefits as CBD, it does so with a relaxed high.
Delta 8 gummies are very effective in helping the body and mind relax while offering incredible psychoactive effects. But depending on why you are using it, you can find it very useful. These delta-8 gummies can be very effective at helping with symptoms of anxiety and depression. They can also help with inflammation in the body since they can very effectively relax the muscles and numb pain receptors. If you are looking for a very potent high, you might want to look for something much stronger, like Delta 9. But if you want a more relaxing high that is especially good for people starting out, then it is worth it.
You should always be careful when you are consuming Delta 8 gummies, as it can be fairly easy to take in more than your body can handle. Most manufacturers will only offer gummies that have about 20mg or 30mg of Delta 8 in them. Even this amount can be a little too much for most individuals who are just starting out. If you are new to trying out Delta 8, then you should first start with 10mg or 15mg. This will often be half a gummy. After eating it, wait at least 60 minutes for the effects to kick in so that you can know if it is strong enough for you.
The NCI claims that Delta-8 specifically binds twice to cannabinoid receptors in the nervous system, which help to promote sleep by reducing activity in the areas of the body involved in breathing, heart rate, and thought. As a result, it might control your sleep cycle and give you a peaceful feeling that encourages slumber.Take one gummy in the evening or at night so that the effects will be at their greatest around the time you want to go to bed. You'll need some practice to get this right because you have to figure out when you start to experience the effects of Delta-8 THC.
One of the best things about delta 8 edibles compared to other types of Delta 8 products is that they last much longer. Since the body metabolizes them in a different way, you can stay high for as many as 4 hours with a single serving. But if you are taking gummies with a much higher concentration of Delta 8, then it will also last a lot longer. You can stay in that euphoric state for as long as 8 hours or longer, depending on your body type. Make sure that you plan your day in advance before taking one of these gummies.
You can easily find Delta 8 gummies and other products in the Palmetto state since it is completely legal. Since the 2018 Farm Bill, individuals in these states can easily buy, manufacture, and sell Delta 8 gummies as long as they are derived from hemp. Along with finding Delta 8 gummies in various brick-and-mortar stores throughout the state, you can also order them to your doorstep. You are not taking advantage of any outdated laws or loopholes. As long as the product you are getting is from hemp, you don't have to worry about its legality.
Delta 8 gummies contain a higher concentration of THC than Delta 10, which is why they are significantly more potent than delta 10. Due to the higher concentration of THC, Delta 8 can actively help with a range of bodily functions and it can even give a sense of euphoria. On the other hand, Delta 10 has such a lot concentration of THC that it has an almost sativa like effect on the body. The relaxed state does not last as long and Delta 10 does not have as strong of a psychedelic or intoxicating effect. Delta 10 is a much better choice for people who are just starting out with THC.
Read what our customers think about Premium Magic CBD Gummies
4.9 out of 5.0
Based on 188 reviews
Subscribe To Our Newsletter
By subscribing, you will be able to stay up-to-date with the latest developments and news in the world of Delta-8 CBD gummies.
I recently tried the Delta 8 Fruity Mix Premium Magic Gummies and was extremely impressed. The gummies had a great taste, with a perfect balance of sweetness and fruity flavor. The effects were subtle but noticeable, helping me relax and feel calm throughout the day. I highly recommend these gummies to anyone looking for a tasty and effective way to experience the benefits of Delta 8.
I have been using these CBD gummies for my headaches and I have noticed a significant decrease in the frequency and intensity of my headaches.
Premium Magic CBD's delta-8 gummies are a must-try for anyone looking for a natural way to manage anxiety and stress. They have helped me feel more relaxed and calm throughout the day, and I have noticed a significant improvement in my overall well-being since I started using them.
Premium Magic CBD's delta-8 gummies are a great way to manage anxiety and stress. They have helped me feel more relaxed and calm throughout the day, and I have noticed a significant improvement in my overall well-being since I started using them.
I highly recommend Premium Magic CBD's delta-8 gummies to anyone looking for a high-quality CBD product. They are potent, effective, and taste great. I have noticed a significant improvement in my overall well-being since I started using them.
Read All Reviews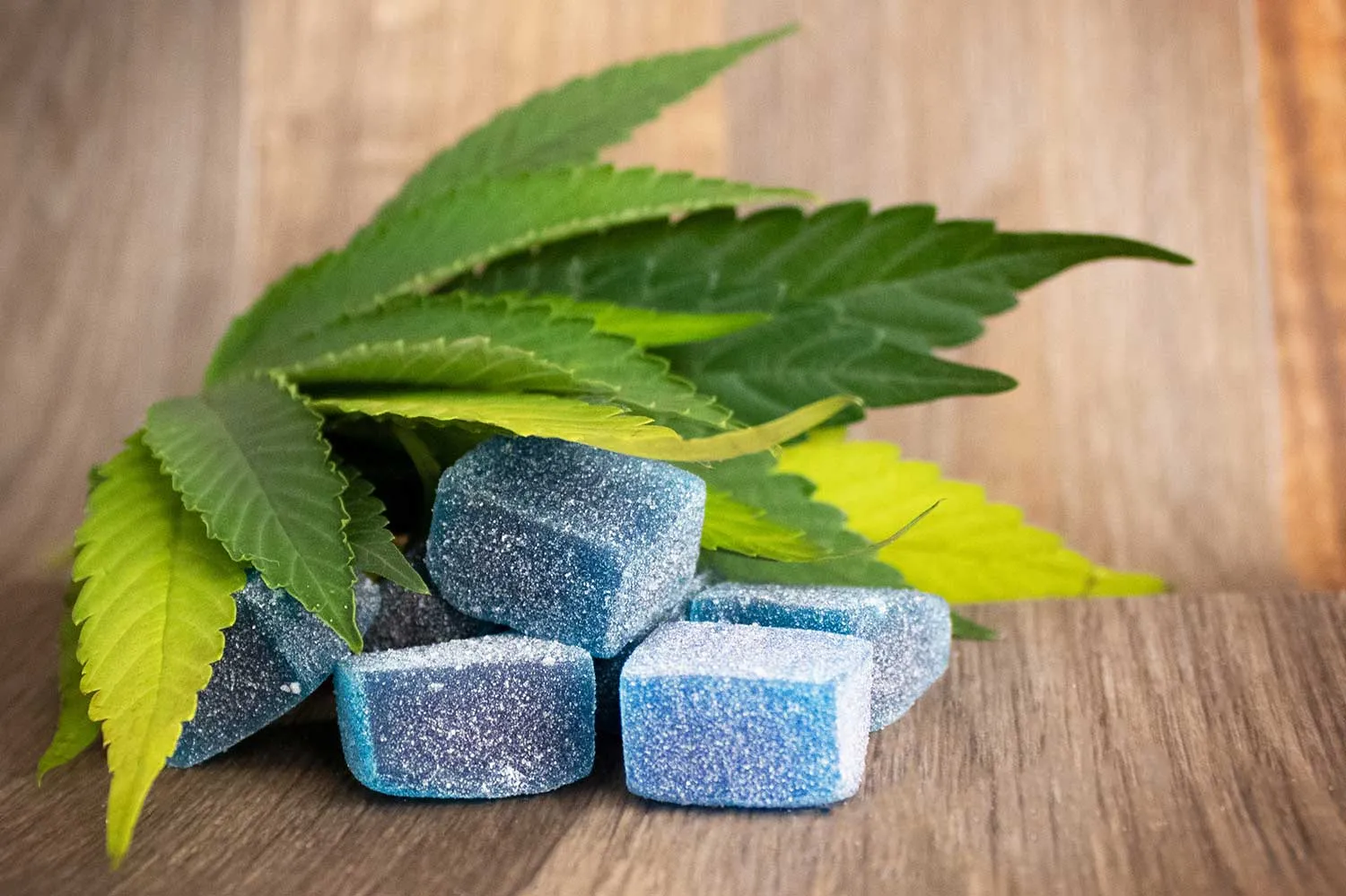 Our Blog
Explore the world of Delta-8 THC gummies through our informative and educational blog posts. Get accurate and up-to-date information on benefits, usage, legal status, and more.
Since Delta 8 THC is a therapeutic component, heals the body from pain, anxiety, and stress. It relaxes the body and gives you a slight euphoria, providing an incredible experience.

On this article we will cover all aspects of Delta 8 reviews. We will talk about best delta 8 brands.

On this article we will cover all aspects of Delta 8 thc gummies. We will talk about the how long it take to kick, time it takes to work and the use case as a pain killer gummy.