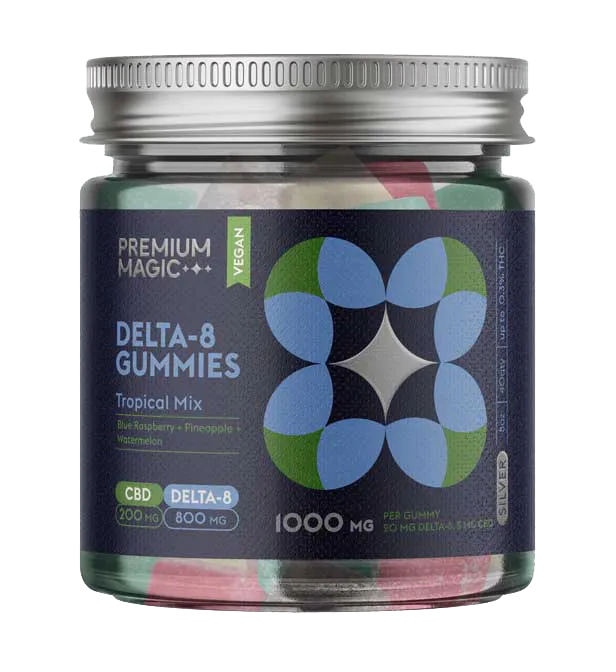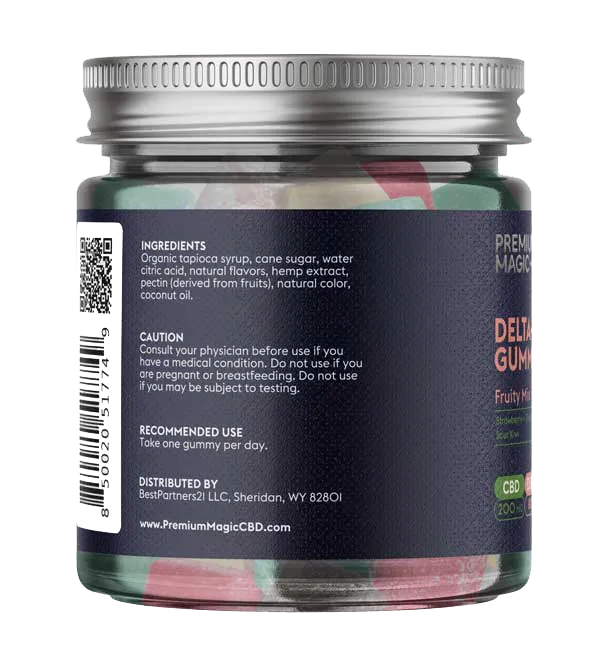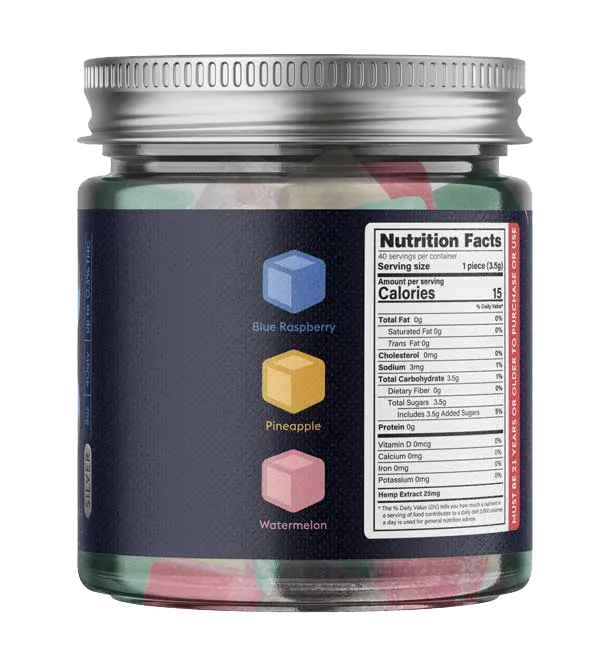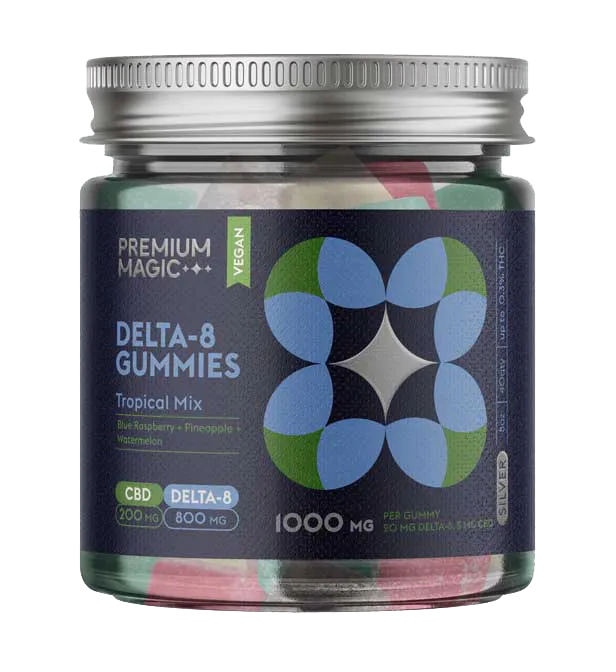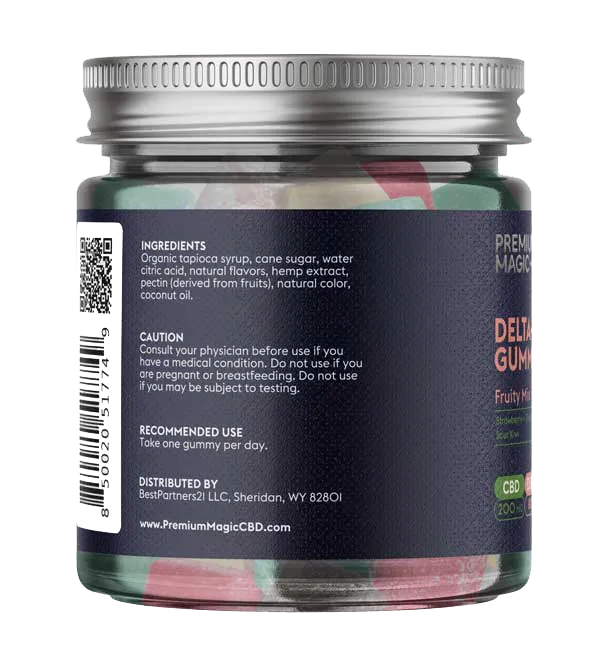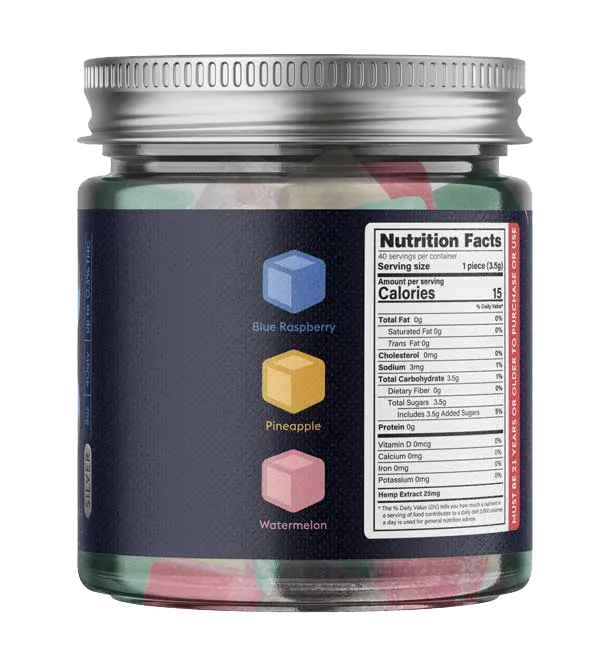 Delta-8 Gummies – Silver Tropical Mix – 1000mg
Introducing our Delta-8 Gummies - Silver Tropical Mix, 1000mg per pack, with a delicious blend of blue raspberry, pineapple and watermelon flavors. Each gummy contains 25mg of Delta-8 THC, making it easy to control your intake and experience the potential benefits. Made with high-quality ingredients and lab tested for purity and potency, our gummies are perfect for those looking for a convenient and discreet way to consume Delta-8 THC.
May have potential anti-inflammatory effects

Can help with improving sleep quality

Can help reduce symptoms of PTSD

Can help improve overall mood and sense of well-being.
Secure payments powered by: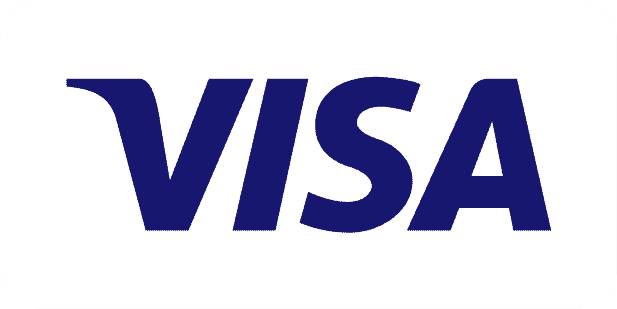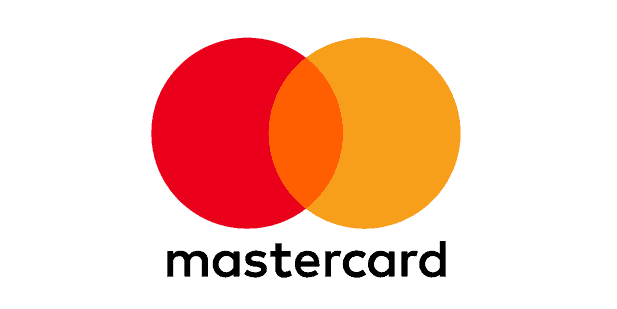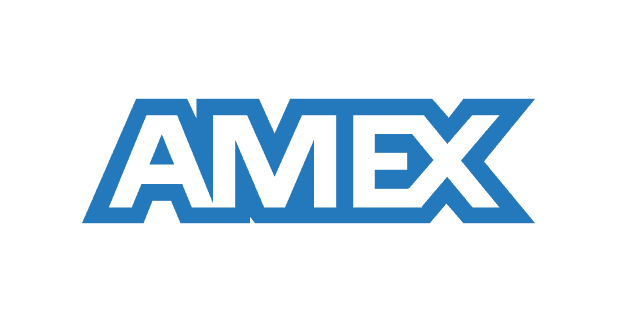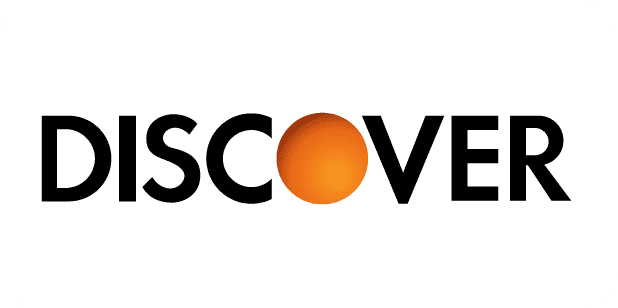 FREE 2-DAY EXPRESS SHIPPING ON ALL ORDERS
Blue Raspberry
Pineapple
Watermelon
Organic Tapioca Syrup, Cane Sugar, Water, Citric Acid, Natural Flavors, Hemp Extract, Pectin (Derived from Fruits), Natural Color, and Coconut Oil.
For best results, it is suggested to start with a low dose of 1 gummy and wait at least 2 hours before increasing the dosage. It's recommended to consume the gummies after a meal for better absorption. It is important to monitor the effects and adjust the dosage accordingly to find the right amount for you and to consult with a healthcare professional before using. It's also important to check the legal status of Delta-8 THC in your state or country before purchasing or consuming it. It's suggested to store the gummies in a cool and dry place to maintain freshness.
Premium Magic Delta-8 Vegan Gummies Tropical Mix
Delta 8 THC Gummies 40 pcs x 25mg
Relax, naturally, like you would gazing out at the ocean while the waves roll onto shore.
Premium Magic Delta 8 THC gummies Tropical Mix uses revolutionary high-quality CBD coupled with Delta-8, a derivative of Delta-9 THC, to create our maximum Gold-level strength that creates a calming vibe even in the center of chaos.
Whisk your mind away with delicious tropical flavors that give you 200 mg of pure-quality CBD and 800 mg of Delta-8 in every bottle. Just one gummy a day takes you back to a place of calmness with tasty blue raspberry, pineapple, and watermelon flavors to help you unwind more healthfully than a cocktail.
With a tropical libation sensation from these flavors, Premium Magic puts that dazzle back in your day, measured with precision, to give you just what you need in every delicious gummy!
Why Should You Buy Our Delta 8 Gummies?
You'll love that our Delta 8 Gummies are made with all-natural ingredients and taste great, too! Our products are made from USA farmers' growth plants. They are 100% organic, bigger in size, and made from PREMIUM QUALITY hemp-derived Delta 8 THC. We offer the best quality Delta 8 Gummies available in the market.

Delta 8 contains a higher concentration of THC than CBD, which makes it significantly more potent. So when you consume Delta 8, you will get high. It does have a much less potent or serious high than something like Delta 9. It binds with the CB1 and CB2 receptors in your endocannabinoid system. By binding with their receptors, your mind and body will also feel instantly relaxed. It also regulates parts of the brain that are responsible for perception, which is why you can start to feel time move slower or have minor hallucinations.
Delta 8 gummies can have a very different effects for different types of users. If you have a higher tolerance to THC, then you might need to take one or two gummies. But if you are just starting out, then chances are that you might not have a very good tolerance for these gummies. A good place to start would be to cut a single koi gummy in half, which reduces the potency to about 12mg or 13mg. Take that first and wait between 30 minutes and an hour before taking the other half. Some people also have a naturally higher tolerance to these gummies, given their metabolism and weight.
You can easily order delta 8 online in Kentucky since a judge declared that products derived from hemp are legal. And since Delta 8 is derived from hemp, it is also completely legal throughout the state. There was an effort to ban Delta 8 products in the state earlier in the year, but those efforts soon fell away when a judge ruled in favor of Delta 8 products. You can easily and discreetly order your favorite Delta 8 gummies from your favorite distributors. As long as they are making deliveries in Kentucky, there is nothing to stop you from enjoying your delta 8.
Delta 8 gummies come from hemp plants, and they can be either Indica or Sativa, depending on your preference. You can also find delta gummies that come in the hybrid variety. Hybrid strains have characteristics of both Indica and Sativa strains. The best part is that all three of them are completely legal as long as they come from hemp plants. So even if these delta 8 gummies have more psychedelic properties, they can still be legal when extracted from hemp.
NJ has legalized all sorts of cannabis, especially hemp-based products like Delta 8 gummies. So if you have a specific brand that you want to try out, then you can easily order online, and they will ship directly to you. Of course, if the parcel is coming from out of the state, it will need to meet the minimum THC percentage. But if you are ordering from within NJ, then you don't have to worry about it having a very specific THC concentration.
You can find a range of Delta 8 gummy dispensaries throughout the state. But if you don't want to bother with an in-person dispensary, then you can instead move on to finding some of the best Delta 8 gummies online. Not only are they very potent and trusted, but they can also offer you the convenience of bringing the parcel to your home. You can even find plenty of variety when you shop through an online dispensary since you can choose between gummies of different flavors and potencies. And if there is a specific brand that you prefer, then you can go to their website and order from there.
Delta 8 gummies from koi can be very potent. Each of their gummies contains 25mg of Delta 8, which is often a lot more than what most people can handle. Your tolerance will often depend on your age, weight, gender, and your metabolism. The best way to take Delta 8 gummies when you are starting out is to first cut the gummy in half. By cutting it in half, you will only be taking 12mg or 13mg. This is a good place to start if you are new to trying Delta 8 edibles. You want to first wait at least an hour for the effects to kick in before you eat the other one.
Delta 8 gummies derived from hemp are legal in Ohio. Moreover, companies manufacturing Delta 8 gummies have to publish their third-party laboratory testing reports highlighting the amount of Delta 9 THC in their products. Delta 9 THC is illegal, but the state government allows products with less than 0.3% Delta 9 THC. Unlike Delta 9, Delta 8 THC is a less psychoactive substance with fewer side effects. However, you can't perform various tasks after consuming Delta 8 gummies, such as driving.
Read what our customers think about Premium Magic CBD Gummies
4.9 out of 5.0
Based on 188 reviews
Subscribe To Our Newsletter
By subscribing, you will be able to stay up-to-date with the latest developments and news in the world of Delta-8 CBD gummies.
I have tried several different brands of CBD gummies, but Premium Magic CBD's delta-8 gummies are by far the best. They are potent, effective, and taste great. I have noticed a significant improvement in my overall well-being since I started using them.
I was a bit hesitant to try CBD gummies, but I am so glad I did. They have helped me to manage my anxiety and I am now able to go through my day without feeling overwhelmed.
I'm not one to believe in 'miracle cures' but Premium Magic CBD delta-8 gummies have come pretty close for me. I've been dealing with chronic pain and these gummies have helped me manage it without relying on prescription medication.
The Delta 8 watermelon gummies are a great way to enjoy the benefits of Delta 8 while also satisfying your sweet tooth. The gummies have a great taste, and the effects are subtle but noticeable. I have been using them for a few weeks now, and I have noticed a significant improvement in my overall mood and stress levels.
I have struggled with insomnia for years, and I was skeptical about trying Delta 8 vegan gummies for sleep. But I am happy to say that they have exceeded my expectations. I take them an hour before bed and they help me fall asleep faster and stay asleep longer. I also love that they are vegan and made with natural ingredients.
Read All Reviews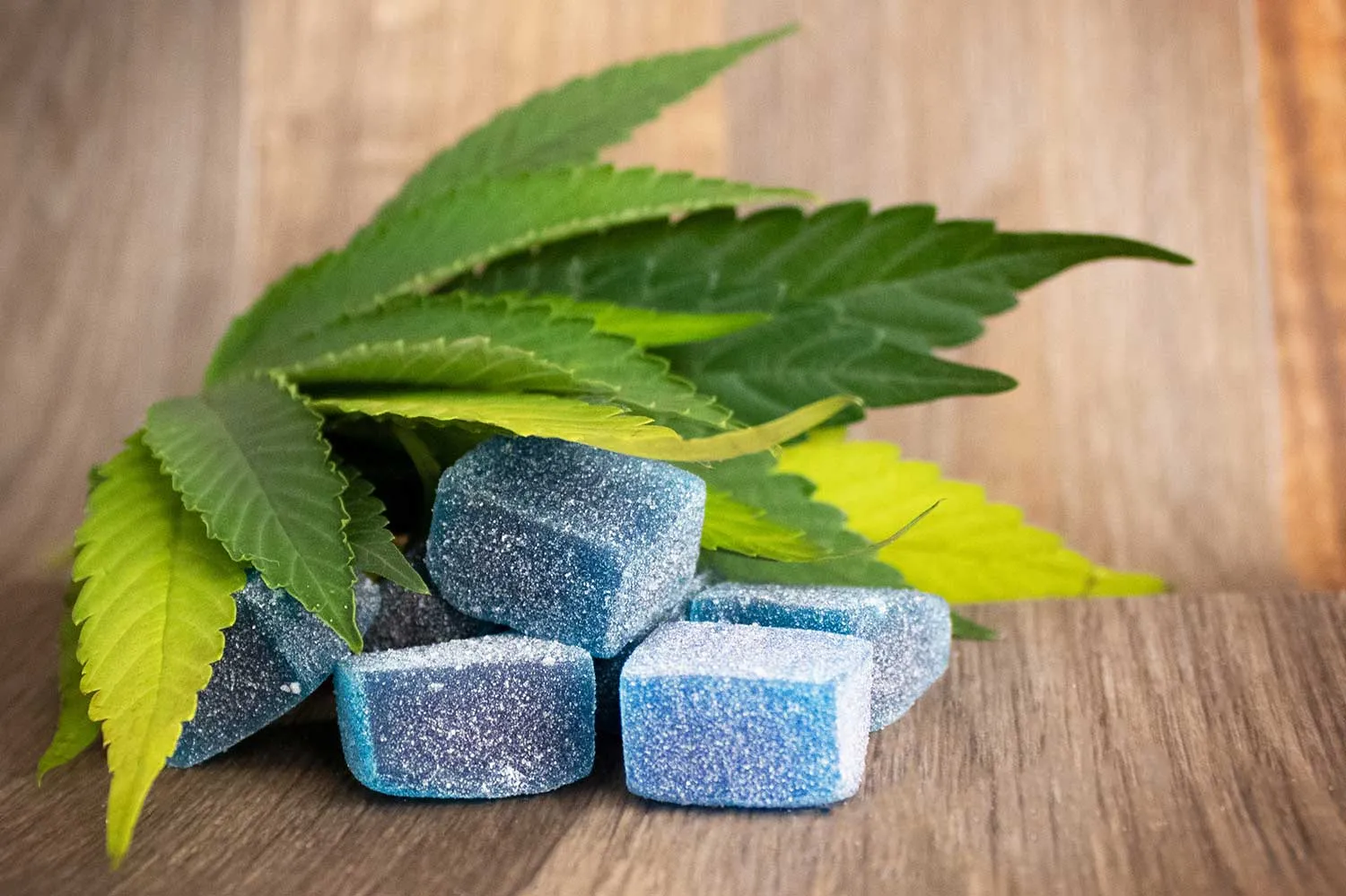 Our Blog
Explore the world of Delta-8 THC gummies through our informative and educational blog posts. Get accurate and up-to-date information on benefits, usage, legal status, and more.
Since Delta 8 THC is a therapeutic component, heals the body from pain, anxiety, and stress. It relaxes the body and gives you a slight euphoria, providing an incredible experience.

On this article we will cover all aspects of Delta 8 reviews. We will talk about best delta 8 brands.

On this article we will cover all aspects of Delta 8 thc gummies. We will talk about the how long it take to kick, time it takes to work and the use case as a pain killer gummy.