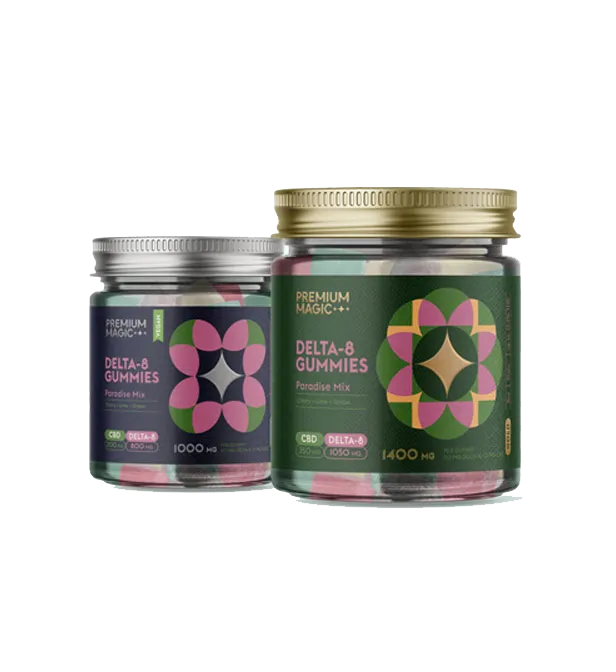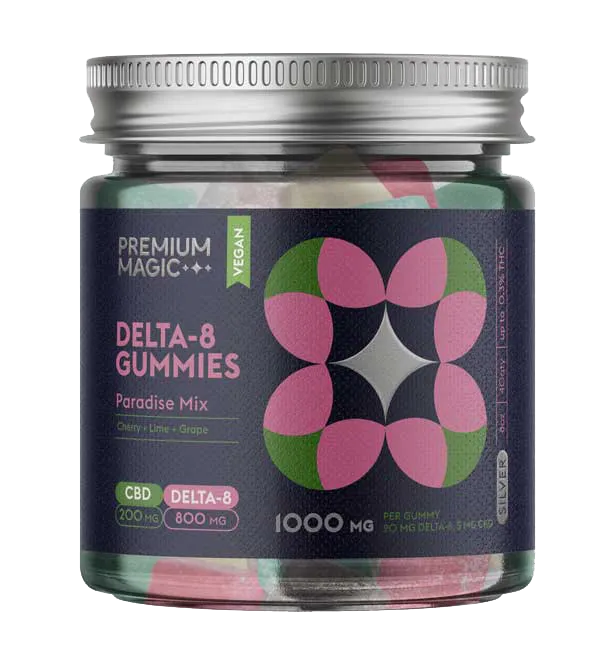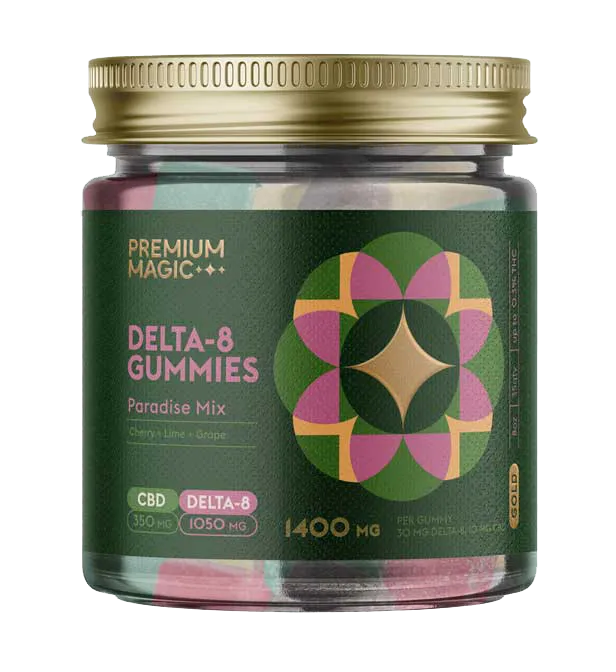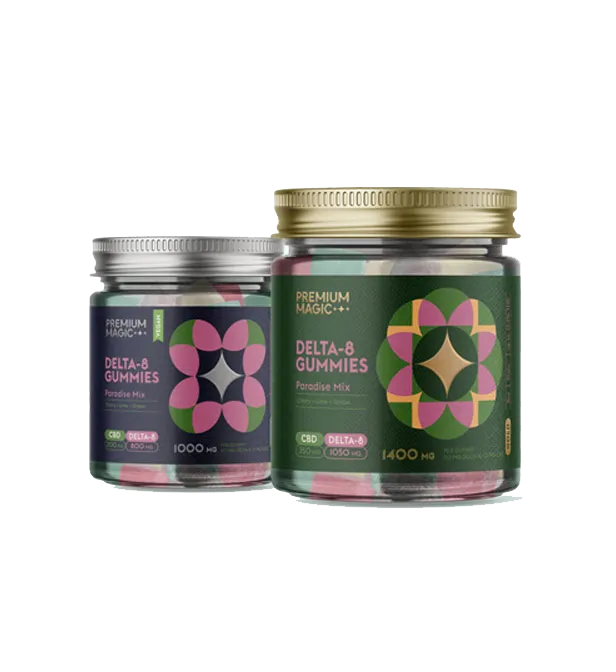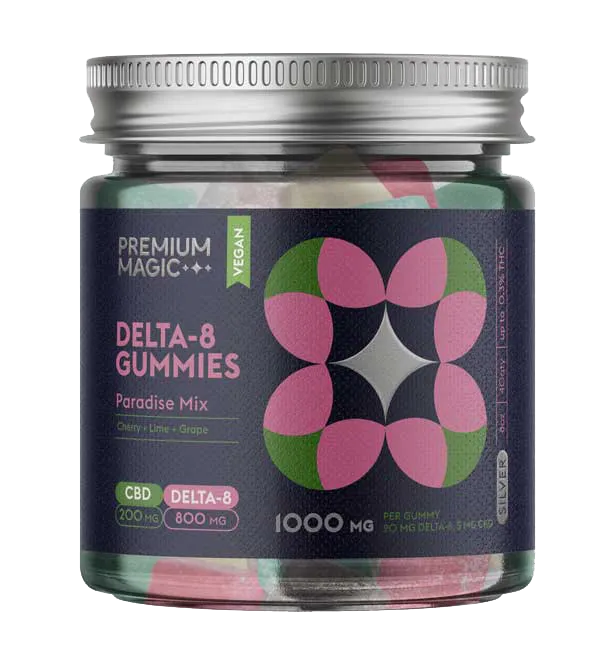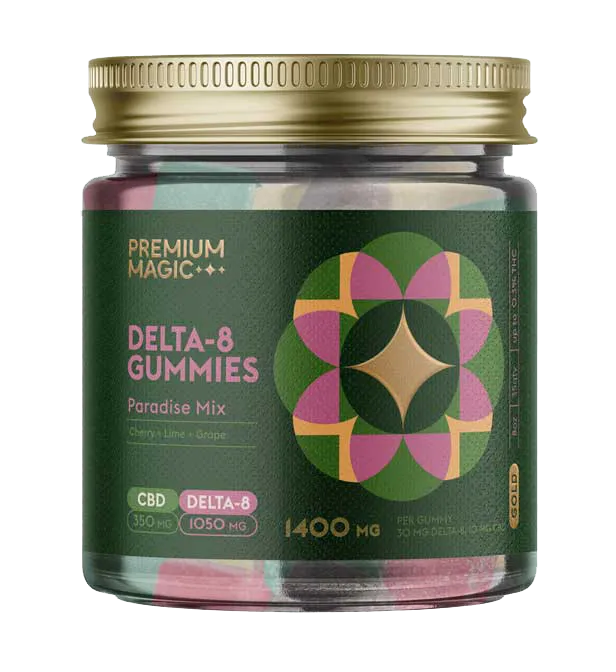 Delta-8 Gummies Gold + Silver Paradise Mix – 2400mg
Products included in the bundle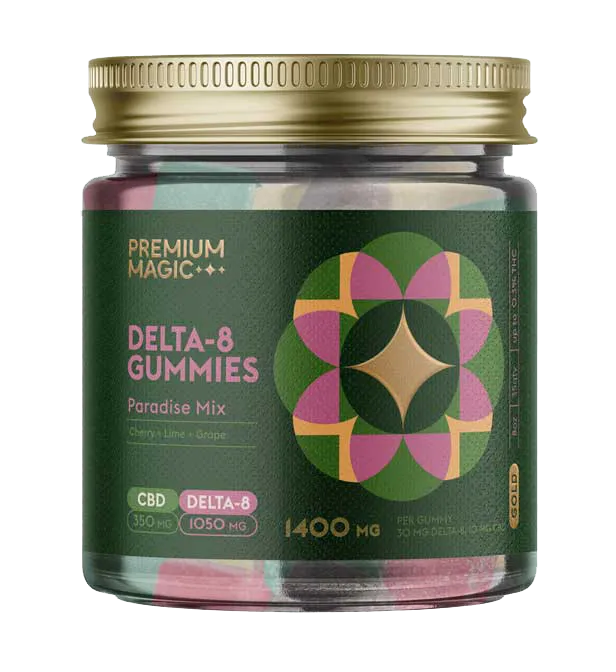 1x
Delta-8 Gummies – Gold Paradise Mix – 1400mg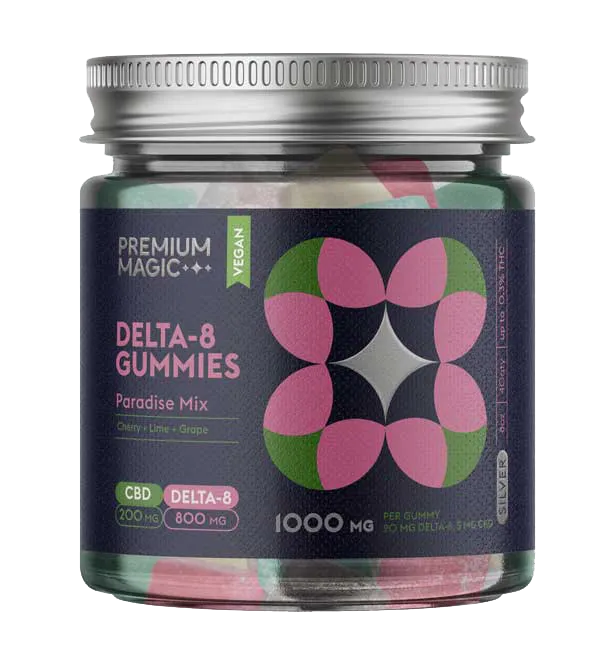 1x
Delta-8 Gummies – Silver Paradise Mix – 1000mg
Unwind and relax with our Gold + Silver Paradise Mix Bundle, containing 2400mg of Delta-8 Gummies. This bundle includes a mix of Gold and Silver level gummies in a variety of tropical and fruity flavors, providing you with the perfect balance of strength and taste.
Contains a mix of Gold and Silver level gummies in a variety of tropical and fruity flavors

Provides the perfect balance of strength and taste

Perfect for those looking for a convenient and discreet way to experience the potential benefits of Delta-8 THC

Made with high-quality ingredients and lab tested for purity and potency
Secure payments powered by: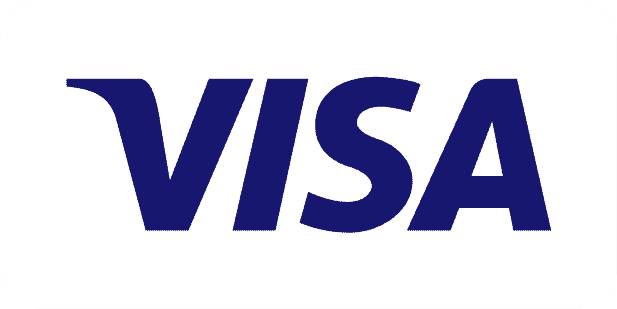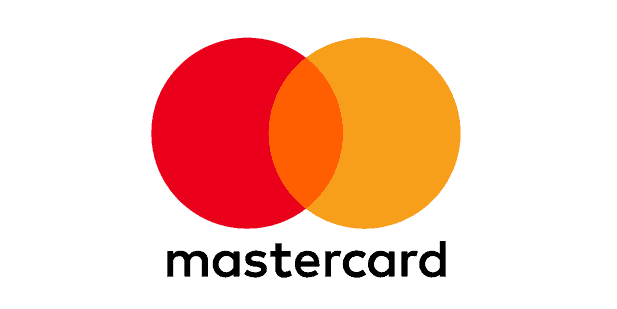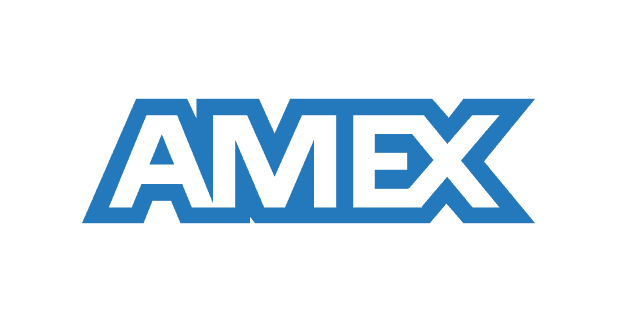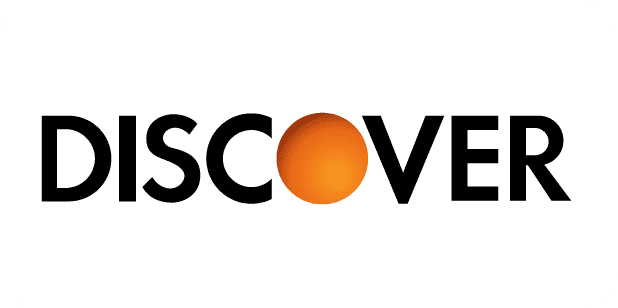 FREE 2-DAY EXPRESS SHIPPING ON ALL ORDERS
Cherry
Grape
Lime
Gold: Corn Syrup (from Corn), Sugar (from Beets), Water, Gelatin, Citric Acid, Natural & Artificial Flavors, Pectin (Derived from Fruits), Vegetable Oil (Coconut, Canola), Carnauba Leaf Wax, FD&C Yellow #5, FD&C Red #40, FD&C Blue #1, FD&C Yellow #6.
Silver: Organic Tapioca Syrup, Cane Sugar, Water, Citric Acid, Natural Flavors, Hemp Extract, Pectin (Derived from Fruits), Natural Color, and Coconut Oil.
It is recommended to start with one gummy per day and increase as needed. Consume the gummies on an empty stomach for best results. It's also important to note that consumption of Delta-8 THC may cause drowsiness, so it's best to avoid operating heavy machinery or driving after consumption.
Premium Magic CBD Gummies Paradise Mix Gold + Silver Combo
Delta 8 gummies 35 pcs x 40mg, 40 pcs x 25mg
Indulge in the ultimate relaxation with our Premium Magic CBD Gummies Paradise Mix, featuring the delicious flavors of Cherry, Lime, and Grape.
Each bottle contains a heavenly blend of top-quality CBD and Delta 8 THC, providing you with Gold-level strength to support your mental wellness.
This blend of 1400mg+1000mg of pure Delta 8 THC + Full Spectrum CBD in each bottle, gives you the ability to take just one delicious gummy per day to bring out your calm and support your mental wellness.
Our gummies are precision-measured with 40mg of CBD, ensuring you get just the right amount for a well-balanced and even feeling. Experience paradise every day with Premium Magic's tasty flavors.
Why Should You Buy Our Delta 8 Gummies?
You'll love that our Delta 8 Gummies are made with all-natural ingredients and taste great, too! Our products are made from USA farmers' growth plants. They are 100% organic, bigger in size, and made from PREMIUM QUALITY hemp-derived Delta 8 THC. We offer the best quality Delta 8 Gummies available in the market.

Delta 8 gummies will eventually lose their potency and expire. But when Delta 8 gummies expire, they do not go bad, and they simply lose their potency. So even though you can still taste the flavor, it will not offer the same benefits as gummies that did not reach the end of their shelf life. Delta 8 gummies will often expire as a result of some of the other ingredients used to make them, but they can still last for up to two years under the right conditions. Store them in an air-tight jar and keep them away in a cool and dry place to extend shelf life.
Delta 8 has been completely legal in Wichita, KS, since the 2018 Farm Bill. Since then, they have not introduced any laws that could likely ban Delta 8 in the state. So not only can you buy Delta 8 products in the city, but you can also order them online at your convenience. There is a multitude of sellers that can even ship your product from out of the state since it is legal to take these products across state borders. There are even many brick-and-mortar shops that can offer quality Delta 8 products.
Delta 8 gummies contain high concentrations of THC that can offer a very relaxing and potent high. When the effects start to kick in, your body and mind will feel deeply relaxed. It can also help reduce swelling and inflammation throughout the body. It can also generally make you feel at ease by increasing dopamine in your brain and uplifting your mood. These gummies do not have any serious side effects either since they can easily connect to the different receptors in the endocannabinoid system. These receptors are responsible for helping the body feel relaxed and at ease.
Delta 8 gummies can come in a range of potencies, often designed for people with a higher tolerance. The most potent and strongest Delta 8 gummies that you can find on the market are the Delta Munchies sour belts. These edibles are incredibly potent, with each belt containing 300mg of Delta 8. You should avoid trying these more potent gummies unless you have gradually developed a tolerance for them. If you start with a more potent edible, you might experience a bad trip. You should first develop your tolerance by starting with just 10mg of Delta 8 per serving.
Delta 8 gummies have been legal in Kansas since the 2018 Farm Bill. There have been no efforts to make these substances illegal, and the state has seen a major rise in businesses that deal in Delta 8. Delta 8 is produced through a process called isomerization, which is how they are able to rearrange the molecules in CBD. After rearranging the molecules of CBD, you get Delta 8, which has more relaxed psychedelic properties. Delta 8 is also legal at the federal level and is also legal to consume in states where recreational marijuana is illegal.
3Chi gummies contain high concentrations of Delta 8 THC. You will feel a high sensation when you consume Delta 8. But unlike other cannabinols that you can find on the market, Delta 8 has a much softer and more relaxing high compared to its counterparts. These edibles can relax your body and can give you a euphoric high that can be a very pleasant experience. It can also help improve your mood by increasing dopamine production in the brain. The increased dopamine can also help with anxiety and depression.
Delta 8 edibles are not as potent as delta 9 but they still have very strong intoxicating properties. So before you try them, you want to make sure that you do not have more than what you need. How your body reacts to these edibles can depend on your weight, age, gender, and metabolism. But if you are just starting out, you should start with 10mg of delta 8 edibles. Since most edibles contain between 20mg and 30mg, you essentially want to eat half a gummy. After eating one, you should at least wait for 60 minutes before having the rest.
Delta 8 edibles can be a very effective way to deal with pain. They are especially effective because they can stay in the body for much longer than tinctures and vapes. They can also bind to different receptors that can make it easier for your brain to relax and numb physical pain. The best Delta 8 edibles that you can get are from PremiumMagicCBD. They create their CBD from a range of healthy and vegan-friendly ingredients and have managed to produce very potent Delta 8 gummies. They can stay in your system for as long as 4 or 8 hours, depending on your body type.
Read what our customers think about Premium Magic CBD Gummies
4.9 out of 5.0
Based on 188 reviews
Subscribe To Our Newsletter
By subscribing, you will be able to stay up-to-date with the latest developments and news in the world of Delta-8 CBD gummies.
"Anxiety Be Gone! The Silver Paradise Mix has been a game-changer for my anxiety. After trying countless CBD products, I've finally found the perfect one. The gummies taste great and have a calming effect that is unparalleled. Thank you, Premium Magic CBD!"
I didn't know what heaven tasted like until I tried the Delta-8 Disposable Vape fruit mix. Each flavor is so distinct yet beautifully blended; it's like taking a bite of the world's most exotic fruit salad. The ease of use is a bonus for a busy person like me. A must-have for every vape enthusiast!
"A tasty treat that helps me unwind. Delta-8 gummies have won me over."
"Nurturing Body and Soul with Premium Magic CBD The Gold Fruity Mix CBD gummies have become a staple in my self-care routine. They offer a potent dose of 1400mg CBD that helps me tackle my daily challenges with ease. The delightful fruity flavors make taking them a truly enjoyable experience. Thank you, Premium Magic CBD, for creating such a phenomenal product!"
I have been dealing with insomnia for quite some time, and I have tried many different products to help me sleep better. Premium Magic CBD's delta-8 gummies have been the most effective for me. I fall asleep faster and stay asleep longer.
Read All Reviews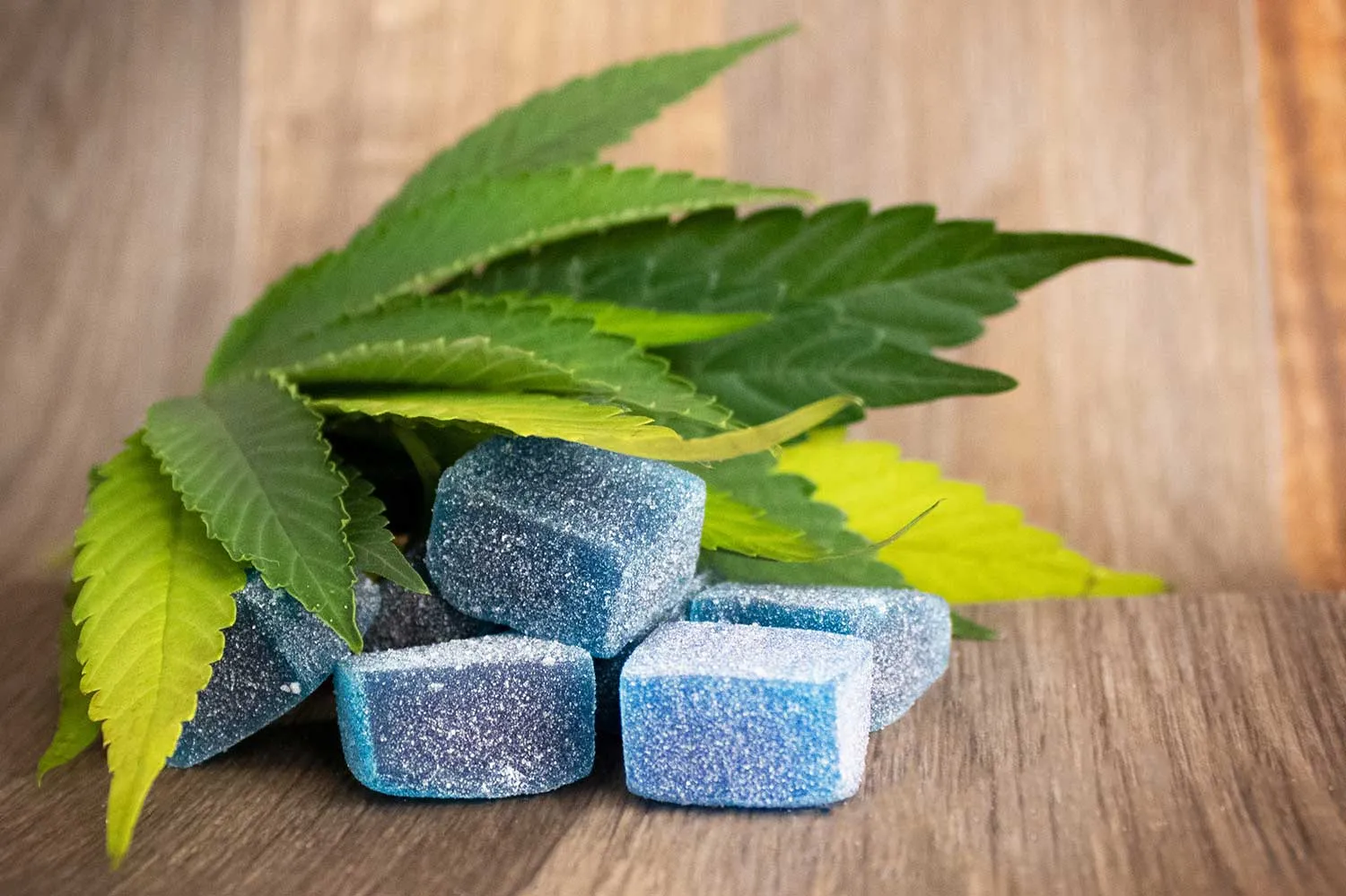 Our Blog
Explore the world of Delta-8 THC gummies through our informative and educational blog posts. Get accurate and up-to-date information on benefits, usage, legal status, and more.